Entries Tagged 'R.N.Jayagopal' ↓
June 21st, 2011 — Awards & Functions, R.N.Jayagopal, Video
RNJ's Speech…

My father & mother are introduced…

June 10th, 2008 — R.N.Jayagopal, Ravi Jayagopal, Songs, Video
As a young boy, I remember going to the movie preview of "Pallavi Anupallavi" with my father.
It was Anil Kapoor's first movie ever. Even director Mani Ratnam was not yet the big name that he is now. In fact, my father and Ilayaraja (music) were bigger names than the director and the hero of the movie. The heroine was virtually unheard of – Kiran Virale. She was pretty much unheard of even after the movie was released.
And then of course, there was "Julie" Lakshmi. One of the most amazing, most beautiful actresses India has ever produced.
Believe it or not, I acted as her son in a movie – "Hosa Kavya" – that she produced to launch her daughter, Aishwariya. Huge dud, of course. But more on that later.
Having grown up in Chennai, I was always a huge fan of Ilaiyaraja. I consider this one of Raja's greatest tunes.
Enjoy.
June 5th, 2008 — R.N.Jayagopal, Songs, Video
This is my all-time favorite song written by my father.
In early May 2008, when he was recovering from a massive stroke in Ramaiya Hospital, Bangalore, I played this very video for him on YouTube.
He had completely lost his speech, and entire right-side movement. But he was still able to carry a tune perfectly.
While the video played, he and I hummed along together – one of the last amazing moments I had with my father.
I'm actually amazed that I'm able to recollect this without completely breaking down. That's life I guess 🙂
June 5th, 2008 — Life, Philosophy, R.N.Jayagopal, Ravi Jayagopal
My father used to say….
When we are little, we say, "My father can kick your father's butt" (hero worship).


Then during the rebellious, teenage years, we say "My father is so controlling – he is ruining my life".

As we become adults and fathers, we say, "Father, help me – I'm stuck!".

Then after your father is no more, and we have grown older and wiser, we say… "My father used to say….".
May 26th, 2008 — R.N.Jayagopal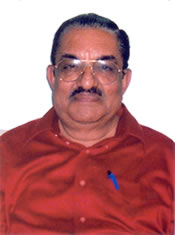 Legendary Kannada film writer and director R.N. Jayagopal – my beloved father – passed away on May 19th, 2008 in Chennai.
He was 72 years old.
He was perfectly healthy – until two months ago. He went from being 100% to 0% – all in a matter of two months.
Dad: All I wanted was to be able to spend some time with you. And talk to you – a lot!
Hopefully we can do that someday – when I see you in heaven.
Until then, have peace knowing that there simply couldn't have been a greater father than you.
Dad, I will always love you. And I will always miss you. You simply were the very best!
– Ravi Jayagopal
Proud Son of Sri R.N.Jayagopal